Tlatlauquitepec: Road to Nowhere or The Eternal Magic of Getting Lost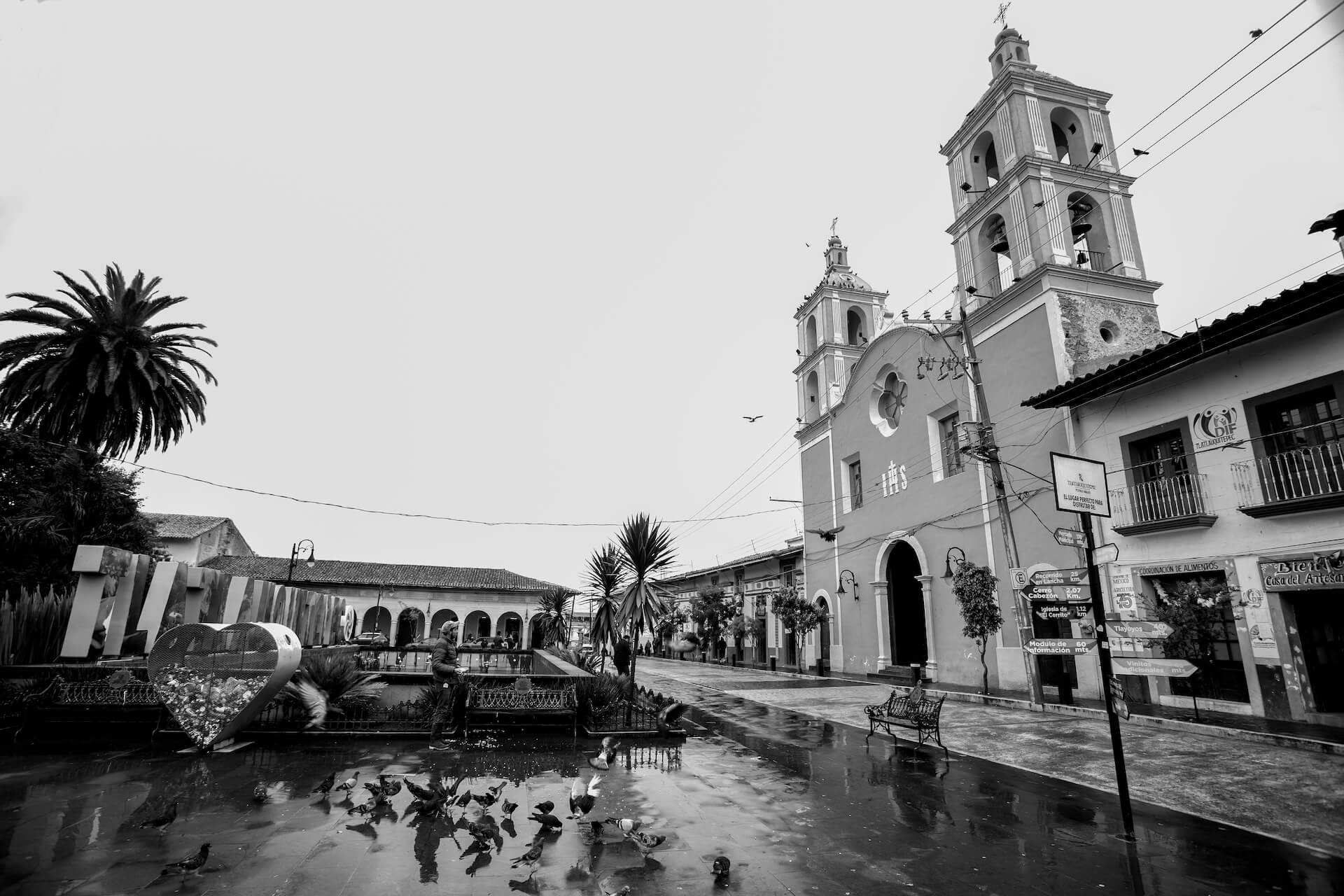 One of the wonders of Mexico is that you never know what it will throw at you next. Will it be an earthquake, a hurricane, or a spontaneous, exuberant party on a Monday morning? Will it take you to the jungle, the desert, or the beaches of the Caribbean? Will you wake up next to a pretty girl or... in a cellar with no lights? The answers to these questions will only be known when you live them. Never plan anything in Mexico, it always ends up differently than you planned.
I've had the urge to go to the mountains for a while and enjoy autumn as I know it from back home. With its mists, its unkindness, its realness. Autumn is my favorite of the seasons - because it doesn't pretend anything. The world in autumn admits in all its rawness that it is aging, dying, and ending. Which can't be said for a lot of us. Autumn, it's a harsh reality with no pretensions - unlike spring f.e. And that's how I like it.
So I decided on that October Friday evening that I would head to the mountains for the weekend. I'd be lying if I said that the romantic notion of sullen mists and scrambling over rocks didn't dissolve into a morning hangover. But whatever, I'll let it carry me and see what it brings. Betting on uncertainty is the safest bet in Mexico.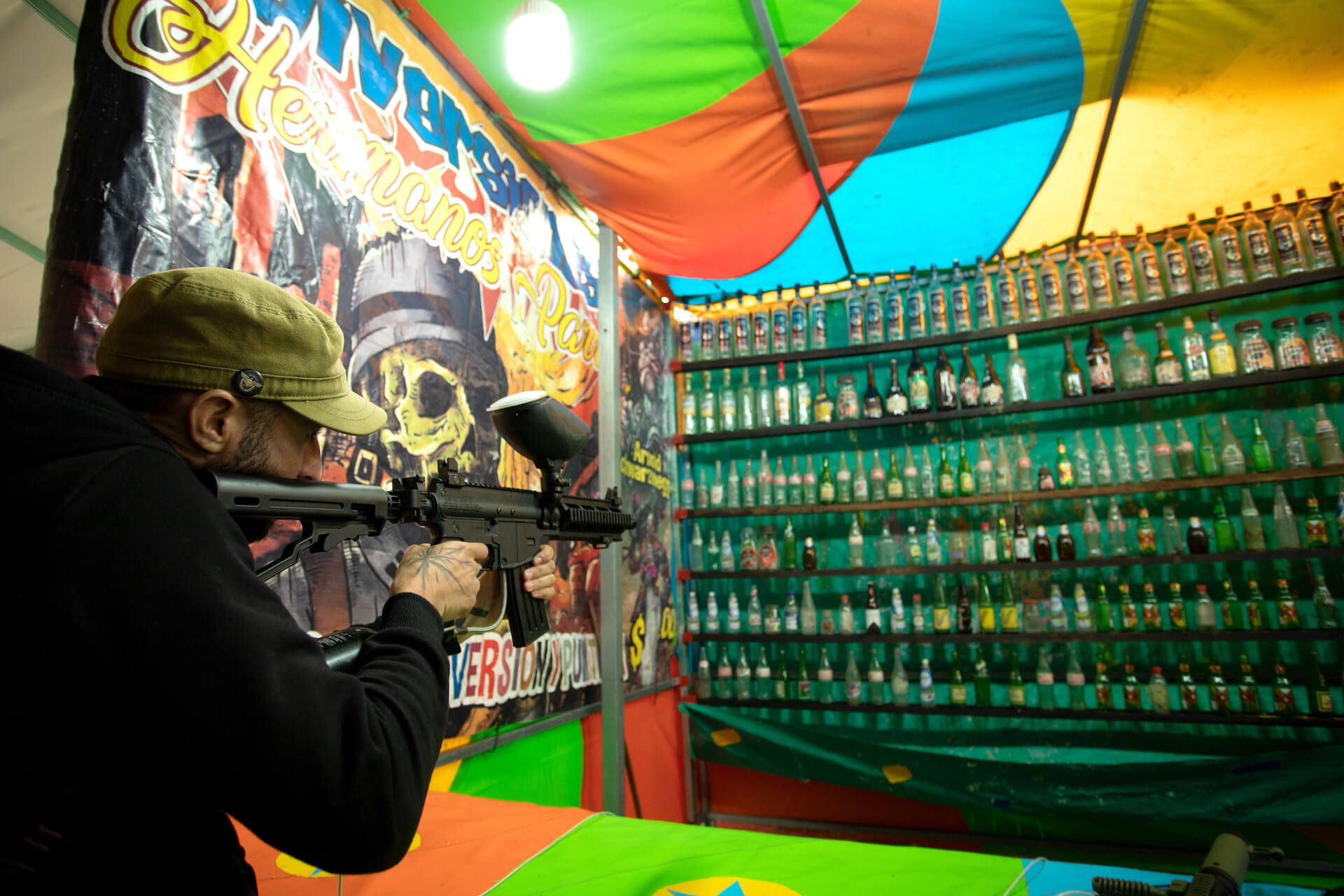 There are plenty of mountain ranges in the vicinity of the capital, which itself sits nearly 2.5 kilometers above sea level. But the highest ones rise towards the northeast, as I read from the reliefs on the map. After all, I had already heard of the town of Zacatlán there, which charmed me with its name - I don't know why, but sometimes I have the urge to go to a place just because I am charmed by its name. Upon closer inspection, I also learned that it boasts a unique glass footbridge overlooking the valley. And it seemed the optimal destination for my autumn mountain cravings.
I never made it there.
In my autumn ravings, I dreamed of staying somewhere where I could put my frozen body on its feet in something that could be filled with hot water after a hard day's effort and perhaps some mountain hiking. Make no mistake, though, bathtubs, as we know them from Europe, are about as common in Mexico as pyramids are in the Czech Republic. Still, I discovered a dream guesthouse on the internet - an ancient, but cozy and well-kept building hidden away in the rocks, with an outdoor jacuzzi and indoor bathtub. With a solid-looking cuisine and a good price. And a world away from where my destination, Zacatlán, was.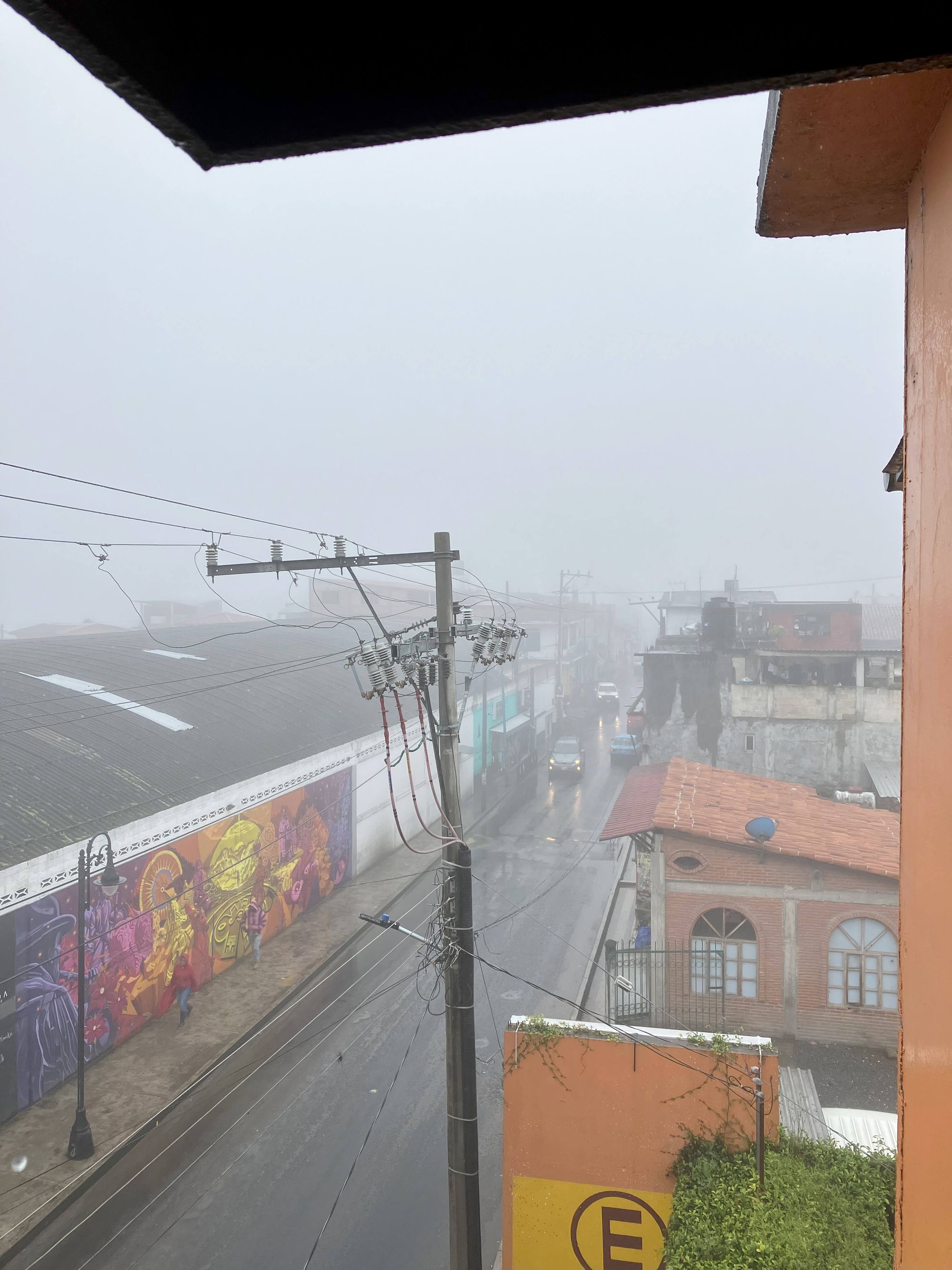 However, this place, hiding about 50 kilometers from my original destination, had cast a spell on me and I discovered that there was even a church in the rock nearby that neither I nor anyone I knew had ever heard of before. And also a terrifying rope bridge stretched across a deep valley that no one knew about either. So I decided to leave Zacatlán for another day and set out to explore this gem. However, I preferred not to book accommodation yet, because here you never know where and when you will eventually arrive. Especially since I still had no idea how to get to this godforsaken place.
Road to Nowhere begins
It seemed likely that buses would travel to these destinations from the central TAPO bus station, located in the northeastern part of the city. If you've never had the pleasure of traveling around Mexico, know that figuring out travel routes or timetables on the internet or by phone from the comfort of your home would be as same naive as assuming that Mia Khalifa gets married at the end of the movie. It's safer to look for a bus station roughly in the direction of the exit to where you want to go, and hope that someone there will refer you to the appropriate transport. The internet will give you routes and times that may not even apply anymore, and random advisors will be so eager to help you that they'll tell you some crap rather than admit they don't know. Someday I'll write a special piece about this Mexican art of not knowing how to say no. But back on the road.
In the circular lobby of Mexico's central station, my friend and I did indeed find, somewhere in a nook behind the big transporters kiosks, a little waiting room of a small local company that we assumed was running services in our direction. At the counter, we actually bought two tickets for 250 pesos per person to the foothill town of Zaragoza, the closest to our destination.
There were no young dreadlocked backpackers from all corners of the western world waiting for the vacation bus, as there were in the areas reserved for the big transport companies dispatching buses to seaside resorts. But older, scruffy folks in ranchers' clothes, aprons, and bags full of supplies they had come to town to buy. There was an old-fashioned vending machine in the corner where we decided to quench our thirst. We spent the time remaining until we had to leave coaxing the vending machine to either give us our purchased drinks or refund our money. Neither succeeded and when we saw that after our futile struggle most of the expedition had settled into the bus and were just waiting for us, we had to leave our thirst behind and scurry off to our ancient cruiser as well.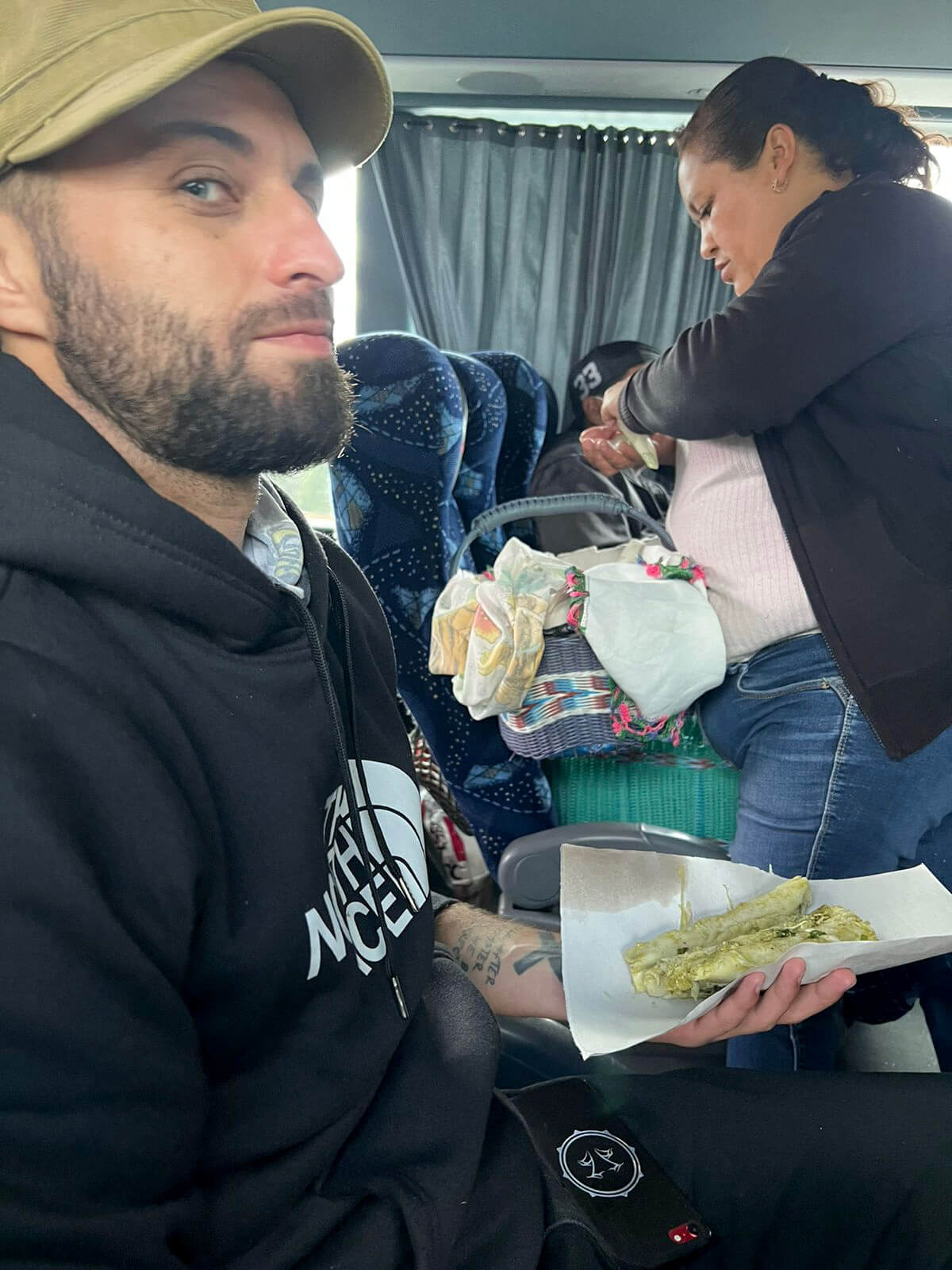 However, traveling by public transport in Mexico usually turns into a gastronomic excursion once you've seated yourself - as do many other events here. No sooner had we settled in than the first one, then several more vendors appeared at the bus door with an endless selection of delicacies pulled from buckets carried on their heads and in their hands. For a few pennies, you could buy something just to munch on, but also a full-fledged homemade lunch.
We resisted, for now, there would be many more opportunities. In fact, before each major intersection, our driver would stop to pick up new vendors, who would run down the aisle and serve the passengers, only to get off again after the intersection. It wasn't until later that I had a lady serve me a portion of flautas, tortillas rolled up, covered in green salsa, and sprinkled with cheese, for ten pesos on a scrap of wax paper.
By then we had already spent three hours curling through the foothills, and outside our windows, we could see yellowish meadows with drying grass, fields, and here and there some abandoned huts. Ahead of us loomed the mountain ranges that seemed within reach, but it was obvious that there was still a long way to go.
I looked at the map and saw the terrible distance that remained from Zaragoza to our destination in the mountains. It was now late afternoon and it was becoming clear that if we continued we would not arrive there until sometime in the night, if at all. Without much thought, we decided that there was no point in taking such a risk, especially as there were sure to be plenty of other nice places around. The view of the mountains promised it.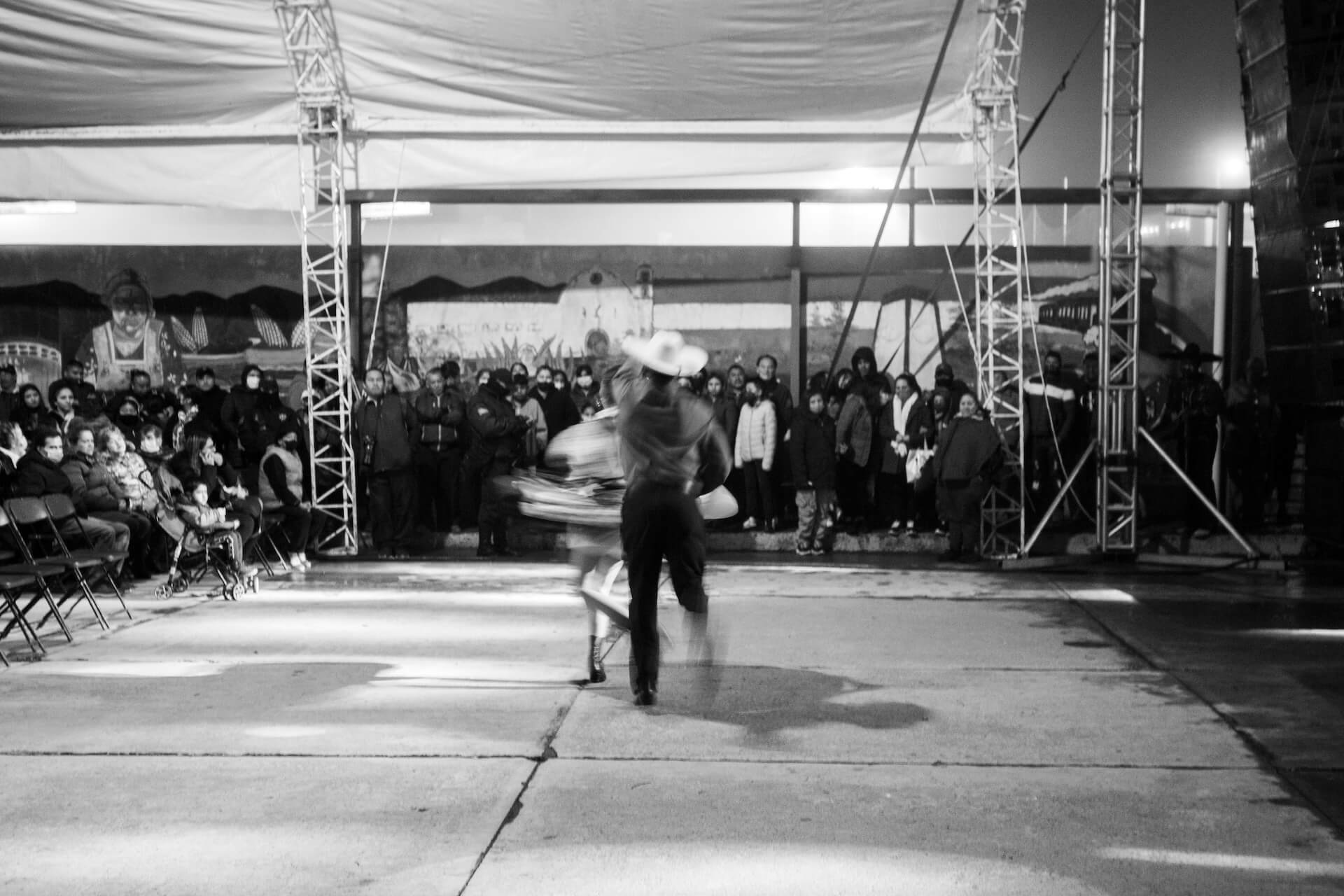 For now, however, a town with a peculiar name, located a few kilometers east of Zaragoza, caught my eye on the map. I couldn't even read it, let alone pronounce it.
On the other side of the map, I discovered a guesthouse, also in the mountains, which was perhaps even nicer than our original one, but unlike it was within driving distance of Zaragoza. Jackpot! I calmly closed my eyes and indulged in a post-lunch siesta in the last kilometers of the journey.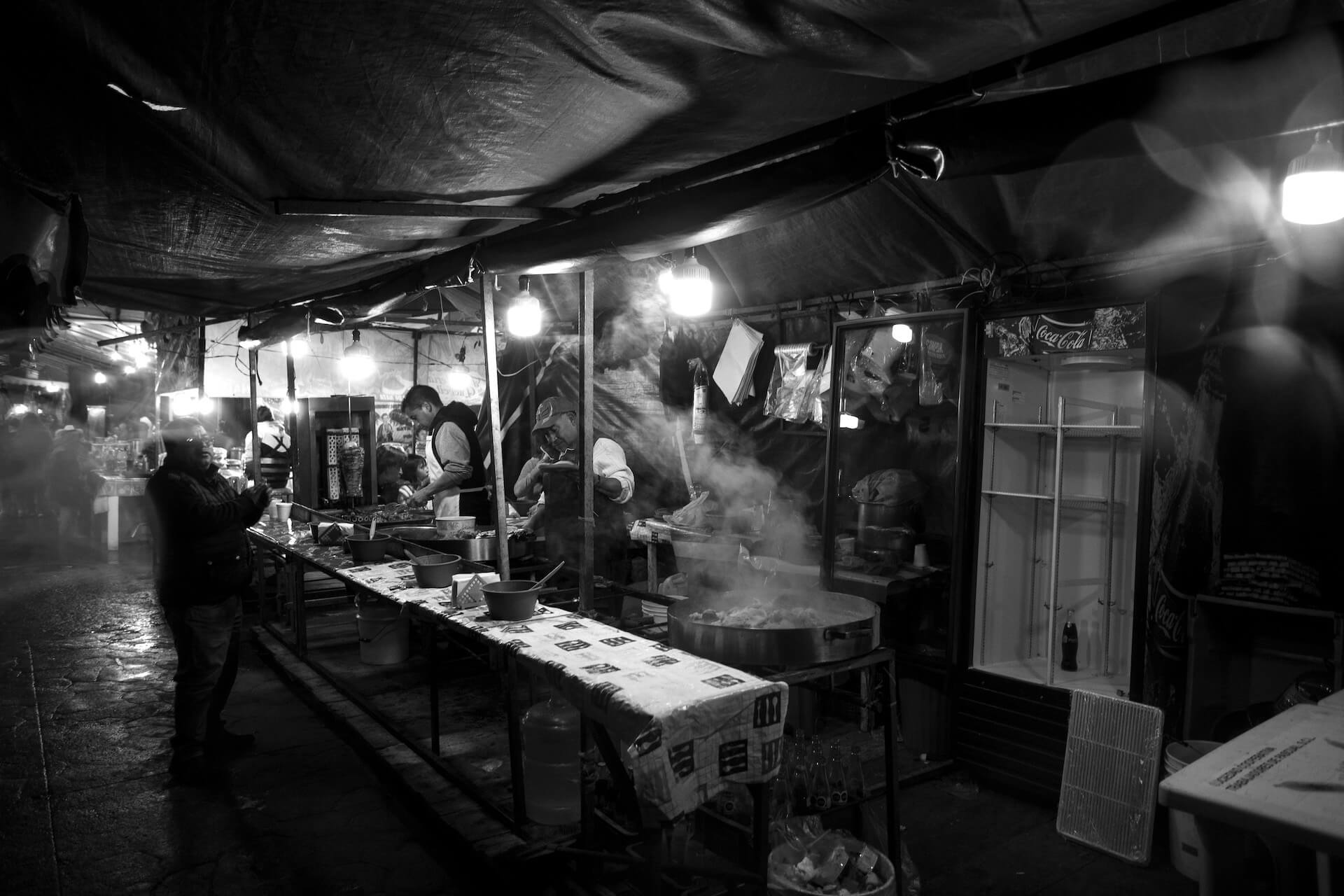 You guessed right, we never made it there either.
When I finally got around to booking a room, it turned out that the last remaining ones had just been taken. And no one was answering the phone. What now? We started a new round of searching and it turned out that the last hope was in that bizarrely named town of Tlatlauquitepec. Bingo!
What it brings
It was only now that I began to look into it more closely and discovered that its peculiar name wasn't the only interesting thing it boasted. It seemed like a solid little town with a few good-looking bars and restaurants, not to mention the sights and the fact that there were a few mountain viewpoints and waterfalls to be found in the area. Most importantly, it had a luxury hotel with an in-room jacuzzi.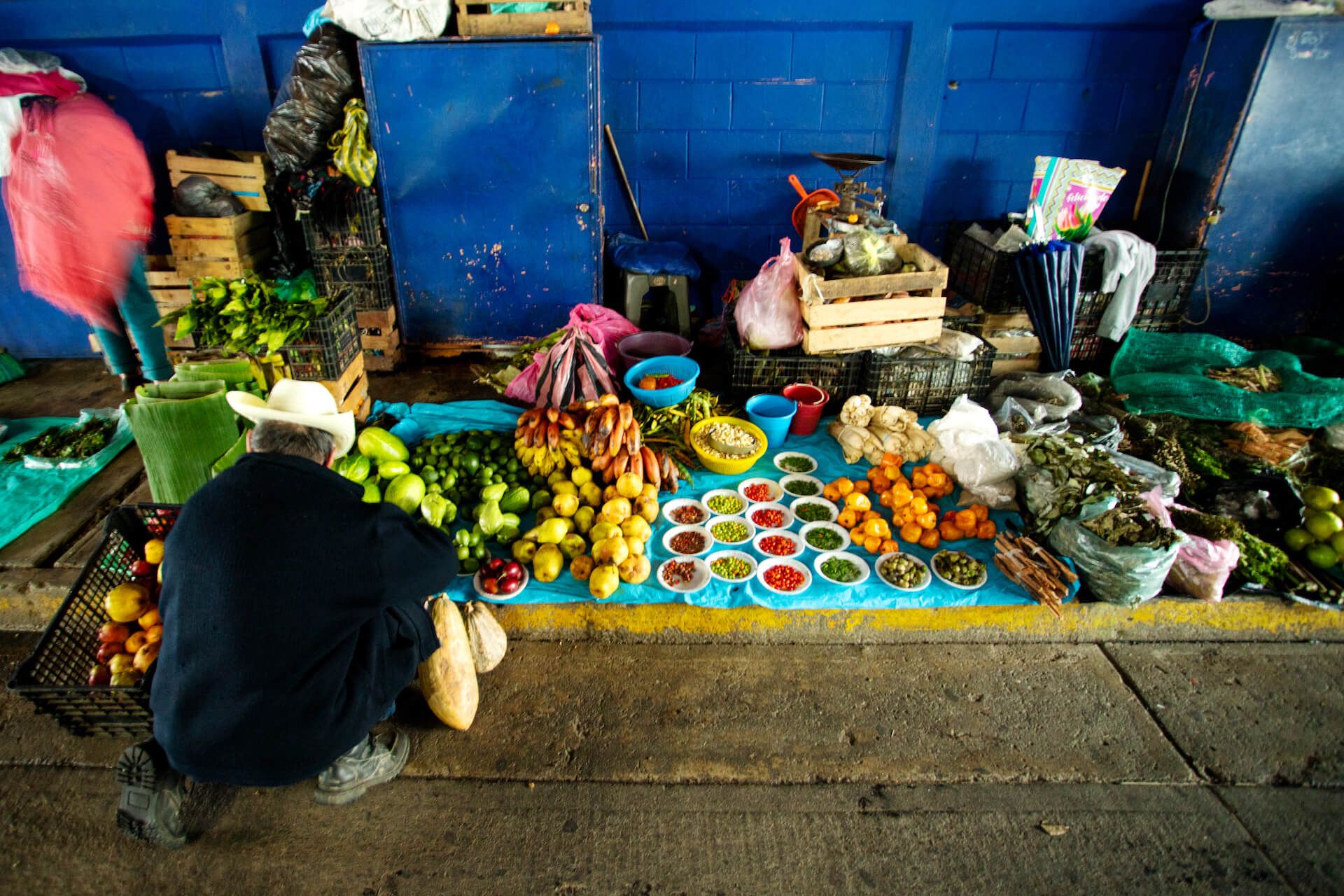 This time we had already managed to book a room, so we were able to disembark in Zaragoza and go straight to the shop opposite the bus stop to buy clothes, as the weather here was even more inclement than we had expected. Proper autumn with its fog, light rain, and creeping cold. That was something for me.
To stretch out a bit after five hours on the bus before the final phase of our journey, which was to be about a 20km taxi ride from Zaragoza to Tlatla... who knows what it's called, we decided to explore the town and maybe grab a bite to eat. I was intrigued by a taxi carrying a washing machine in the trunk, and it kept threatening to break free from its captivity, which I wanted to take a picture of. So we chased it down a few streets until suddenly a space opened up in front of us and in that space several men were in the process of setting up a stage and a large capacity tent. We asked them what was going to happen and they told us: The fair has arrived!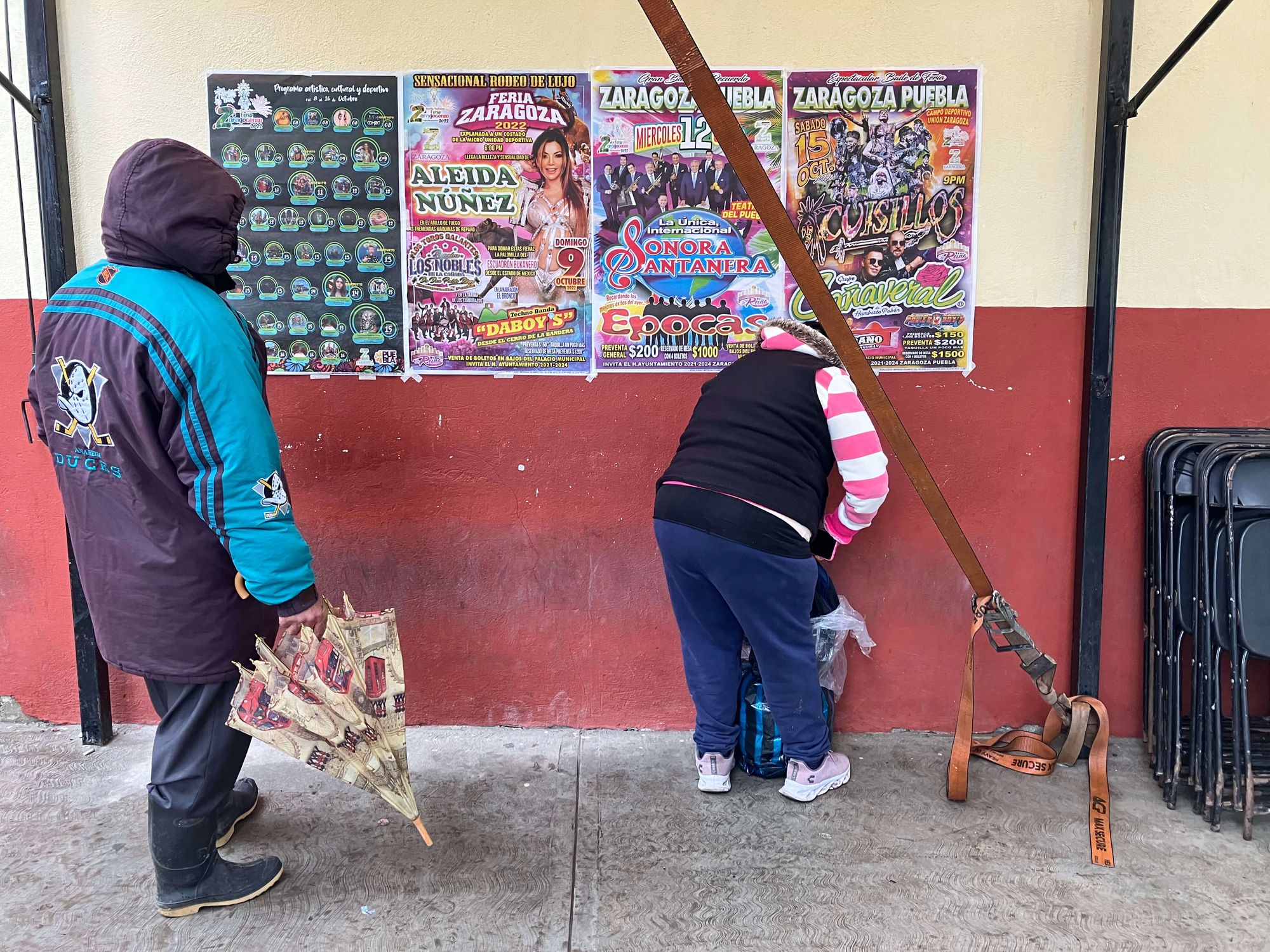 We couldn't have asked for a better reward. I saw a beer tent nearby and another one behind it. We approached cautiously and found that food and drink stalls lined the streets in abundance. There was no way around it, this was going to have to be explored.
As well as the food, there were game rooms with table football, shooting games, and various games with prizes. There were fairground amusements of dubious condition in the open air, so it was perhaps a good thing that none of them were in use due to the rain.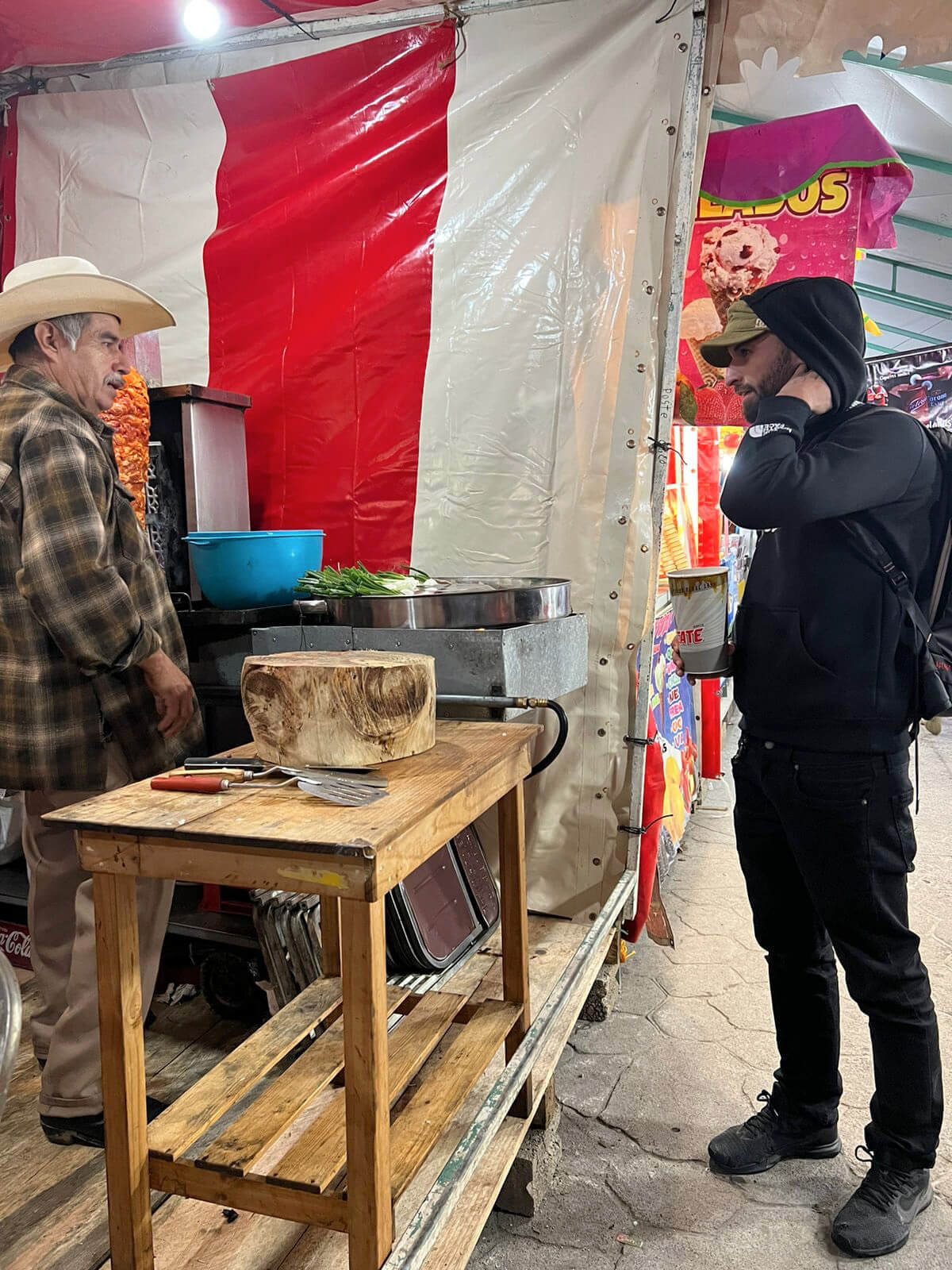 We got sucked into the carnival madness. We were given micheladas, beer lemonade with lime and salsa, in liter cups, and walked through the aisles, which were becoming increasingly crowded with people. We ate and drank all we could, and played all we could. We also bought trinkets, lots of trinkets. The more useless the thing the better, the more peculiar the food the better, the more colorful the drink the better. There were moments when we (me) contemplated ditching the glitzy hotel in Tlatla... God knows what it's called, and turning to one of the dingy, camera-stalking ruins around Zaragoza. Only we were forced out late in the evening when we couldn't fight the terrible cold off with hot soup. So we got into a taxi and at 10pm set off on the half-hour journey to somewhere we couldn't see through the fog.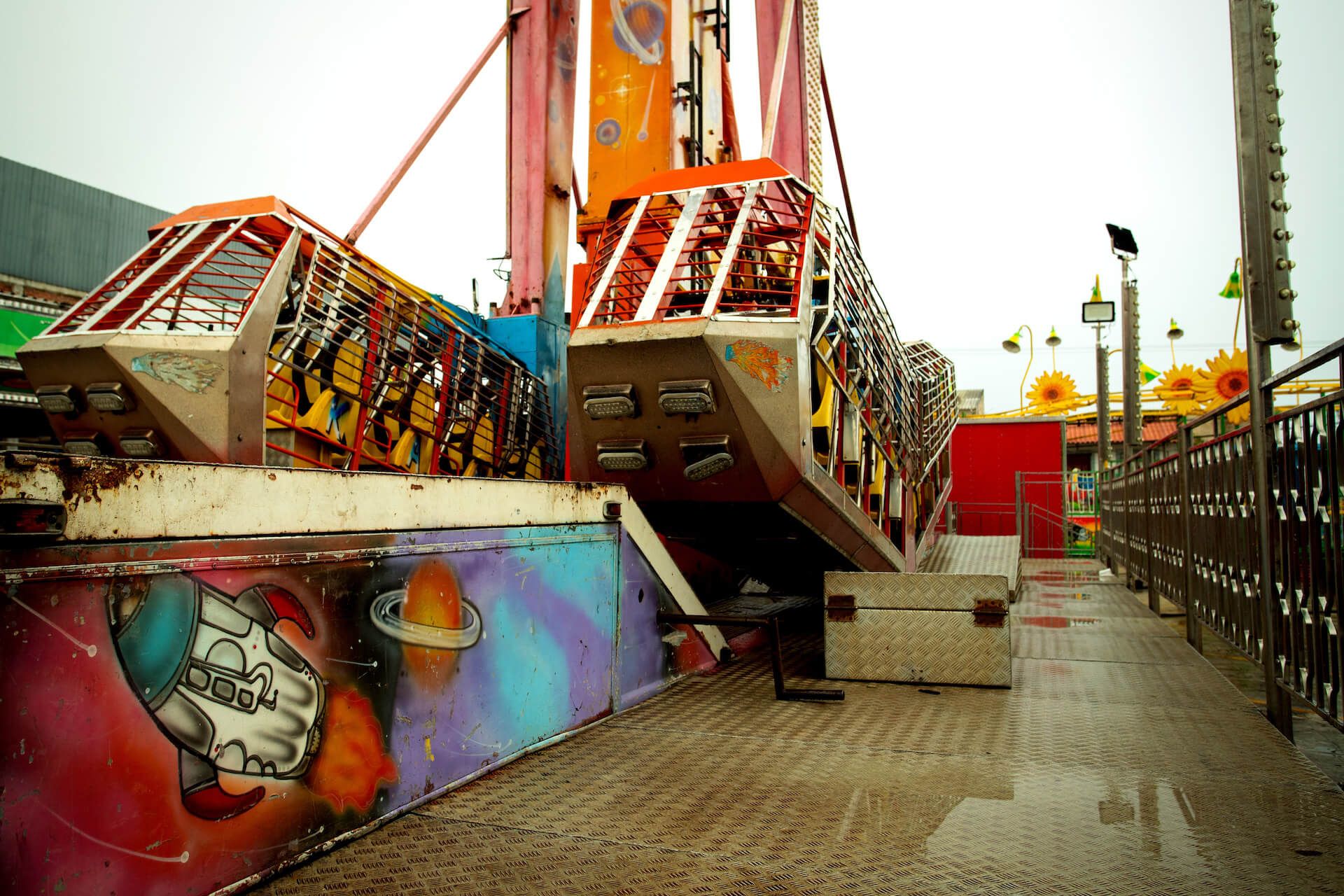 The hotel that dominated the square in Tlatlauquitepec was the real pride of the town, it was cozy, just as we needed, and had its own bar and dancing room. And a jacuzzi in the middle of the room.
When I woke up in the morning and opened the curtains, I saw the fog outside the windows, rolling in over the ridges of the surrounding hills. And that was exactly why I came here. Although this time yesterday I had no idea where we would lay our heads or if we would lay our heads at all, we had also spent most of our time on the road, but you know the old saying: the journey is the destination. Especially when you have no idea where that destination is.